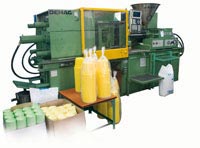 Uniplastex (unlimited company) was founded in 1991. Our main activity is manufacturing products made of plastic, as well as cooperative services within this area.
We offer a broad range of decorative plastic pots, freestanding plant holders, window/balcony boxes, box retaining brackets and other products made of plastic.
We are keen to cooperate with large businesses both at home and abroad within the range of our offered products.
We are willing to start cooperation with contractors of plastic products. We host cooperative services for injection moulding of up to 1,000 gram mouldings.